Support for the Voice to Parliament
As a reconciliation group, GWRN supports the upcoming referendum to establish an Aboriginal and Torres Strait Islander Voice to Parliament. A 'Yes' vote will amend the Australian constitution to recognise Aboriginal and Torres Strait Islander's as the First Peoples of the continent, and establish a constitutionally enshrined Voice that can make representations to the Parliament and the Executive Government of the Commonwealth on matters relating to Aboriginal and Torres Strait Islander people.
GWRN endorses the Uluru Statement from the Heart (2017), and understands that the Voice is one component of broader reforms which stem from this statement, that a majority of First Nations delegates agreed to at Uluru. The Uluru Statement was presented to the Australian people with the aim of creating a better future. Alongside the Voice, the Uluru Statement calls for the establishment of a Makarrata Commission to supervise a process of agreement-making between governments and First Nations (Treaty or Treaties), and truth- telling about our history.
As a group we will be sharing resources, information, and upcoming events to help you make an informed vote on the Voice referendum. We acknowledge that there are many different opinions and nuanced views in this debate between (and within) the Yes, Undecided, and No perspectives. However, we believe the Voice is one step that could help address some of the ongoing systemic issues that are a result of colonisation and government policy which have negatively impacted Aboriginal and Torres Strait Islander peoples. And furthermore, that over time, enacting all elements of the Uluru Statement from the Heart presents a once in a lifetime chance to address unequal outcomes and renegotiate the relationships between First Nations peoples and non-First Nations peoples in Australia.
Resources on the Voice to Parliament
Uluru Statement from the Heart and The Voice:
Government sites:
Articles and commentary:
National Reconciliation Week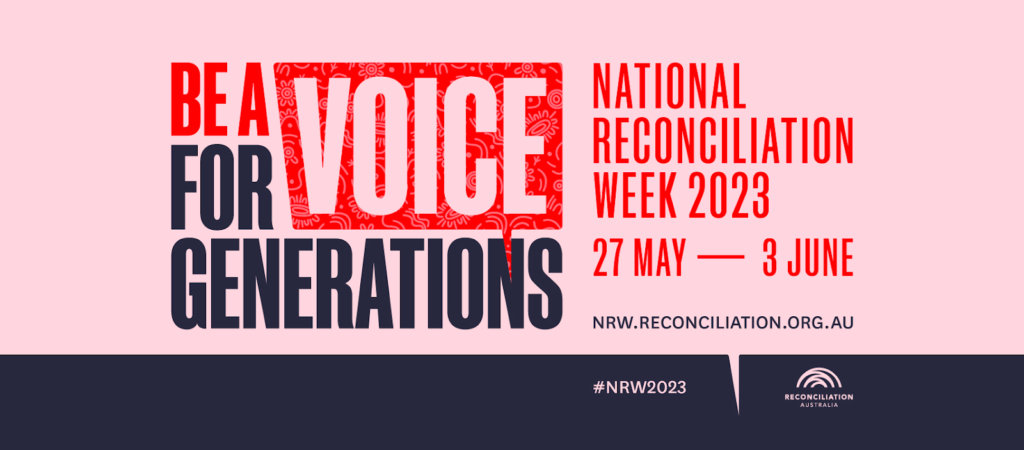 For info on National Reconciliation Week events online, in Victoria and around the country – check out https://nrw.reconciliation.org.au/calendar/
Creative Voice/Creative Generations Reconciliation Week Event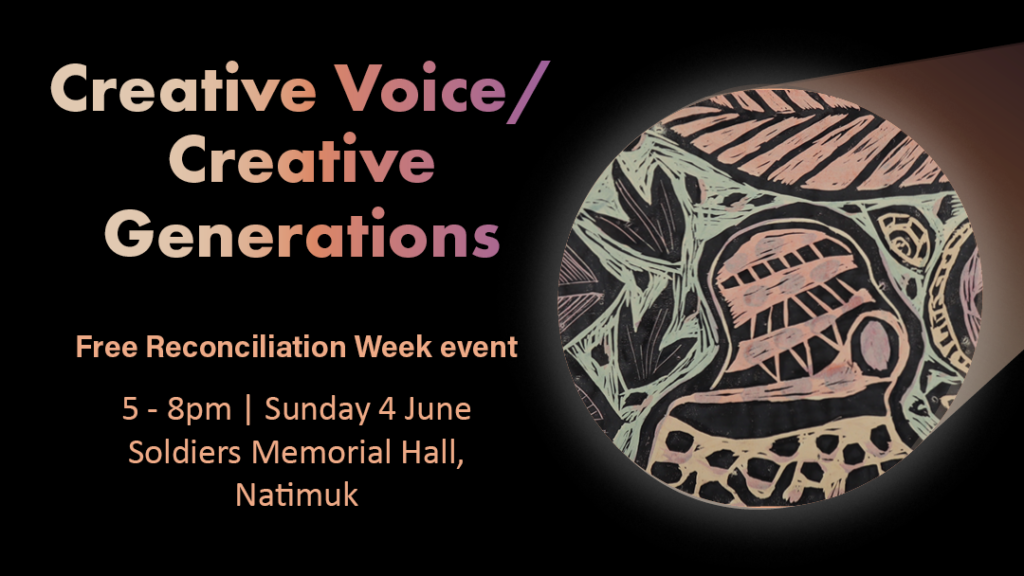 ACT Natimuk and Gariwerd Wimmera Reconciliation Network are partnering to host a Reconciliation Week event at the Natimuk Soldiers Memorial Hall on Sunday 4th June, from 5-8pm. The Creative Voice/Creative Generations (CVCG) event will celebrate the creative processes and practices of artists of the Wotjobaluk Nation on Country with the broader community. CVCG will feature a creative practice talk by Wotjobaluk/Wemba Wemba artist Aunty Annie Nikkelson and projected digitalised artworks by various artists including:
Aunty Annie Nikkelson – Wotjobaluk/Wemba Wemba
Gail Harradine – Wotjobaluk/Djubagalk/Jadawadjali and ACT Natimuk Board Member.
Tanisha Lovett – Gunditjmara/Wotjobaluk
Yama Harradine – Wotjobaluk/Djubagalk/Wergaia
Thomas Marks – Wotjobaluk/Gunaikurnai
Myrtle Jeffs – Wotjobaluk
The theme of National Reconciliation Week, 'Be a Voice for Generations', speaks to the continuing cultural practices of local First Nations artists which are imbued with ancestral and cultural connections to the Wimmera region. CVCG focuses on multigenerational links between artists and their creative practice, both within family groups, and the mentorship between members of different family groups and generations. ACT Natimuk will also launch their Reconciliation Action Plan at CVCG, which contains artwork by Thomas Marks and graphic design by Myrtle Jeffs. This is a free event and all are welcome. Complimentary nibbles, hot food, and tea and coffee will be available. The event is supported by funds from ACT Natimuk and Barengi Gadjin Land Council, and a grant from Reconciliation Victoria.