GWRN AGM 28th Nov 2022
On the 28th of November, GWRN held its second AGM via Zoom. It was a great pleasure to welcome seven new members to the network (some in absentia). The president's summary highlighted much of the work that GWRN has done in the previous 18 months. This included running numerous external reconciliation reflection sessions as well as internal reflection sessions at our 'all member meetings'. Efforts regarding our social media campaigns, including a successful collaboration with Arc'teryx with their 'Do it right day', were also acknowledged, along with the team's efforts towards BGLC's assessments at Dyurrite and the culmination of efforts with regard to the Gunigalg assessments, which resulted in recreational access generously being supported by the Traditional Owners and the coexistence of rock climbing on much of 'Taipan wall'. Our collaboration with the member groups of the proposed 'Climbing Victoria' towards the formation of a respectful and reconciliation-led climbing advocacy group was also highlighted as a positive feature of the period, with high hopes this group can step in to take over some of the climbing specific work GWRN has been involved in over the past two years.
The AGM culminated in the election of office bearers, with Claire Evans re-elected as President and Melissa Morris as Secretary. The previous Vice President, Meg Dennison, and Treasurer, Mark Gould, stepped down, and Chook Betts and Kieran Loughran were voted into these positions respectively.
The Committee members for 2023 are Dave Jones, Mark Gould, Meg Dennison, D'Arcy Molan and Edwin Irvine.
We acknowledge the service of founding members, Florence Seow and Daniel Earl, who stepped down from the Committee this year. Thank you for your hard work and efforts in establishing the organisation over the past three years.
Gunigalg update/opening – process and hopes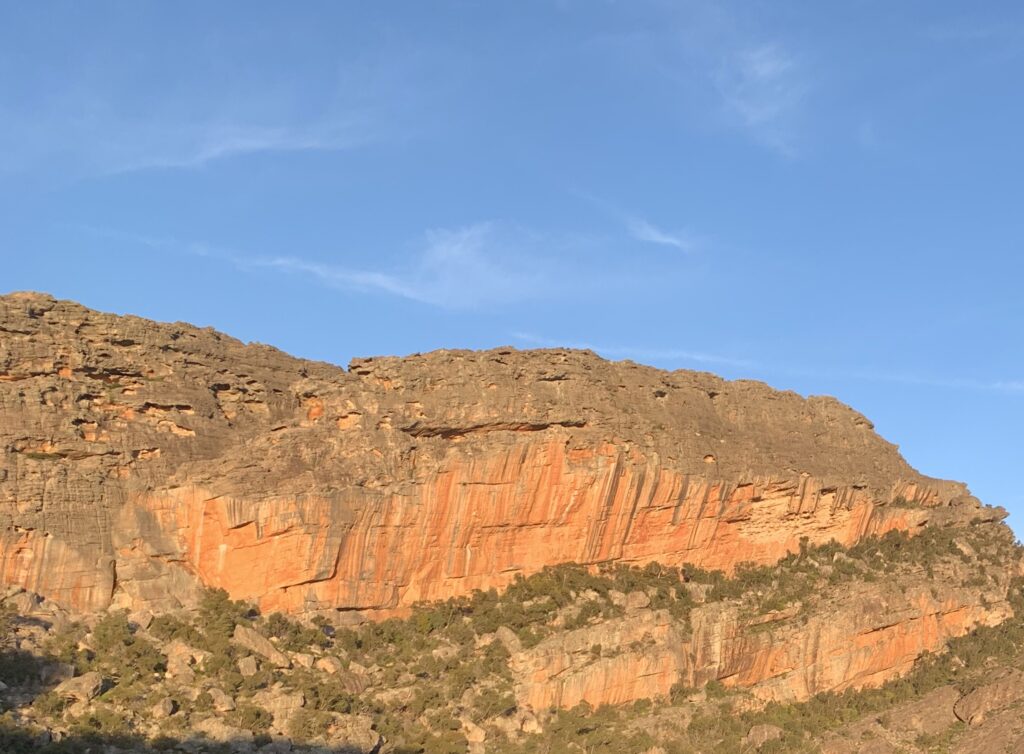 Over the last two years a great deal of time and effort has gone into Cultural Heritage / recreational use assessments at the Gunigalg Cultural site (Taipan Wall), all at the instigation of the Gariwerd Traditional Owners with the support of GWRN. Over several collaborative site visits, members of GWRN met with representatives of the three Traditional Owner groups to provide information and discuss options for climbing activities at the site, which was presented to the Gariwerd Traditional Owners via a summary report that would enable them to make informed decisions about protecting the values at the site. The Gariwerd Traditional Owners completed the assessment process with Parks Victoria and asked them to move forward on their recommendations. This work has since resulted in the reopening of sections of the Gunigalg area to climbers on the 17th December. With site works finally being completed by the land manager Parks Victoria and with support and high access works done by CVAC, recreational users now have the privilege of being able to share this special place. We would like to heartily thank all those involved for their hard work and dedication to the outcome of this process. We hope this is a positive example of how we can work together toward an outcome that supports protection of Cultural Heritage and at the same time, where possible, allows recreational users to enjoy these beautiful spaces. There is a great deal of goodwill and trust now being placed in the hands of climbers and we are hopeful the climbing community will honour that trust.
January 26th – Invasion day
As 2023 begins, we look toward the year to come and how we can best work towards reconciliation and a common understanding of our shared history. January 26 is not a day of celebration, the day and lead up to the day causes pain, hurt and grief for many Aboriginal and Torres Strait Islander peoples. We'd strongly encourage attending, or tuning in online, to one of the many survival day events being held on the 26th of January.

This year the City of Ballarat will hold its Fourth Survival day Dawn Ceremony on January 26th, commencing at 5.30AM at Viewpoint, Lake Wendouree – further details via this link Ballarat Survival Day Dawn ceremony Details of the many other events happening in Naarm (Melbourne), and other areas can be found here.
The Voice
The coming year is also likely to bring a referendum regarding constitutional recognition of Aboriginal and Torres Strait Islander Peoples. We are closely following this national conversation and will share resources and information leading up to this historical event throughout the year. We encourage everyone to get informed about the campaign and we hope that this conversation leads to better recognition and better outcomes for First Nation's Peoples, and ultimately all Australians. You can learn more about the campaign and tune into regular updates here:

Climbing Victoria Advisory Committee (CVAC) update
From its conception over two years ago, there have been ongoing efforts toward the formation of a state peak body for outdoor climbing, proposed to become 'Climbing Victoria'. It has been very heartening to recently see this group become more active as it works toward formalising its governing structure. We look forward to the climbing community being able to achieve respectful, diverse, collaborative, and inclusive representation at the state level through this organisation.
Whilst this process has required a great deal of work for all the leaders and representatives involved, we have had the opportunity to be included and provide input in the set up stages of this group to help inform and promote a reconciliation based approach. We hope that climbers will feel proud to be represented in this way. While there will be much work for 'Climbing Victoria' to do in the future in the Gariwerd / Wimmera area, we are encouraged by the process and goodwill that has developed and hope this can continue to inform positive interactions between Traditional Owners and climbers.